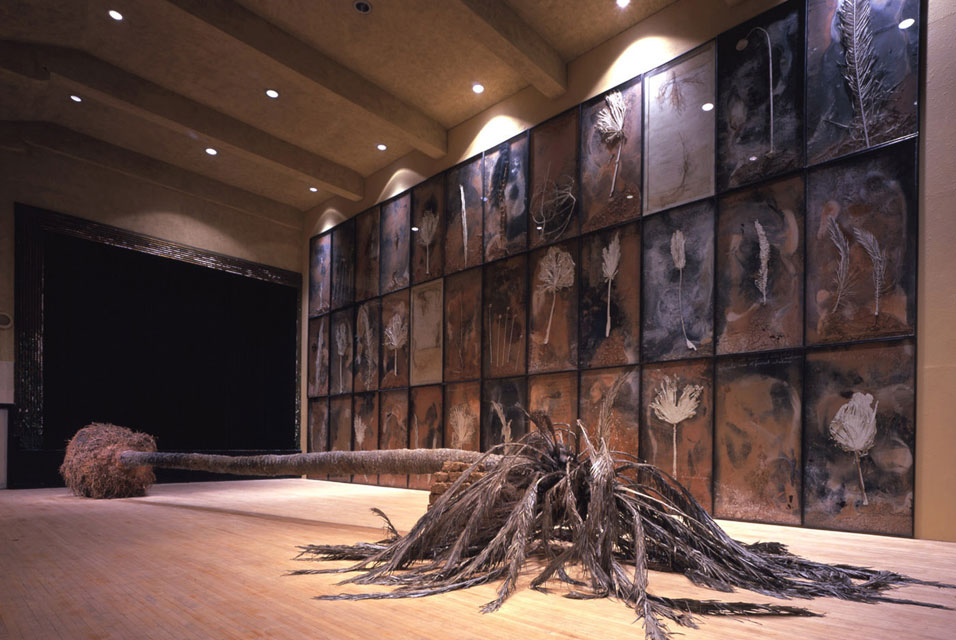 (Anselm Kiefer, Palmsonntag, 2007, 44 panels of mixed media on board, fiberglass and resin palm tree, clay bricks and steel support, dimensions variable.)
In the beginning of this project, even with all my ideas, I couldn't seem to find many artists that related to my ideas. Through a lot of research and help from other studying artists, I have managed to find a glut all within a week of looking. So far they mainly relate to my intended idea of bringing a root system of a tree into a space (my exhibition in March and the studio area later) and hanging it from its cut trunk so it looks as if it is growing through the ceiling, and that the viewers are standing where the soil usually is. The idea is to put the tree into a different context, causing the viewers to question what they see and how they see it. It's also looking at the question, 'where does nature fit into an urban space?' as the exhibition I'm showing in, is in a nuclear bunker, an urban space surrounded by a very rural landscape, it is insinuating the rural element pushing its way back in, almost like the trees in Chinobal:
Alan Sonfist is an artist who looks at how nature reclaims urban spaces, which fits really closely into what Im doing. His work is very different to most other 'landartists' and may it be a bit strange some of the time, he is very focused on his ideas.
Another artist, whos work utterly astounds me with its aesthetic marvel, is Giuseppe Penone:
The Ghost Forest is also a very related art project to what I am doing but on a much larger scale. Just a different way to show the beauty of a part of nature we never get to fully see.